Managing an automotive repair shop is a full-time job. You can be repairing cars in the morning, meeting customers in the afternoon, and filing paperwork in the evening. Plus, you need to oversee day-to-day operations on top of all that.
You might not notice how much dirt and clutter your workspace gets daily because you're too busy with everything else. No one even bothers to implement a system that can ease your productivity because they can be used to mess and disorganization.
But what if you realized that there is a way to optimize your workspace with a few changes? You will not only make your shop more conducive to working, but you can also boost employee morale along with creating a good impression on your customers. Consider these changes for your shop to optimize your workspace better.
Movable Car Lifts
Running an automotive repair shop means you can service all parts of the vehicle without a problem. That includes the wheels and everything under the car. But to work on the underside of a vehicle, you have to lift it completely.
Bays with a lift anchored to the ground can do the job because they can lift the vehicles. However, movable car lifts are even better because they require less space and are mobile. Heavyweight mobile column vehicle lifts can be a good investment for your auto repair shop because they can allow you to work on the cars without much hassle.
The best thing about these car lifts is that their columns are battery-powered, so they aren't anchored to the ground and promote mobility. You can easily move them to the side of your garage or service area, allowing more space for you to work on other tasks.
Portable Engine Hoist
Have you ever tried to lift a car's engine on your own? It's an impossible task, even with two people. That's why investing in an engine hoist is vital to establishing your auto repair shop, because it eliminates the need for multiple mechanics to work on a single car when a hoist can do the job easier.
But engine hoists can take up so much space because they are built to carry heavy loads such as engines. A better option for you would be buying a sturdy and reliable engine hoist that is portable, so you can keep it on the sides when you're not using it.
Ensure that your portable engine hoist can support the maximum weight of the vehicles you plan to serve. This is so that you won't be costing yourself additional expenses in buying multiple hoists if your original one can't support the weight of other engines.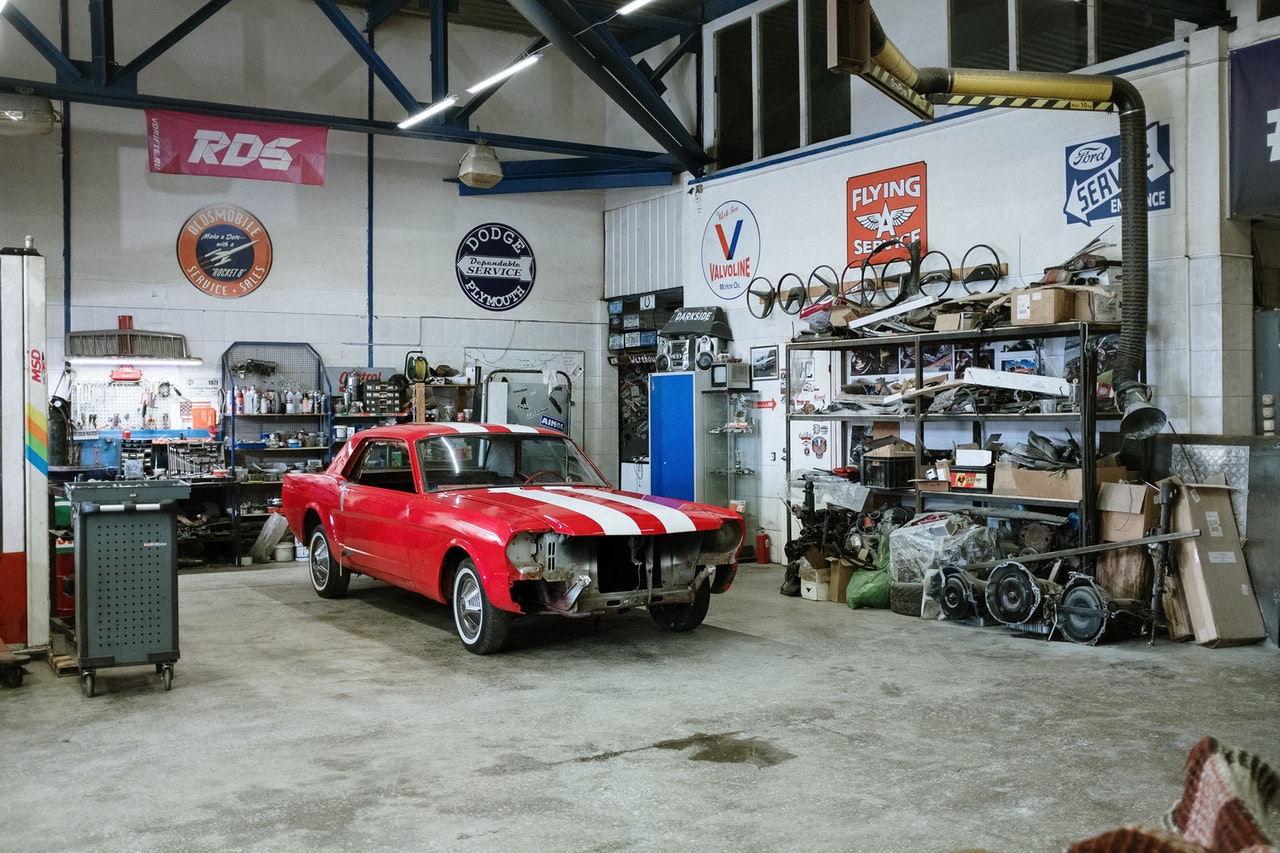 Optimal Flooring
There's nothing worse than having to clean grease and oil drips on the floor and creating much more mess than when you began. What if there was a way to optimize your shop's flooring so that you won't experience that hassle again?
You can make your repair shop's floor more optimal by investing in ceramic tiles or epoxy paint that is easier to clean than wooden or stone flooring. It can be a bit expensive to install, and it will take some getting used to, but the benefits of converting to a more optimized flooring greatly outweigh the potential losses.
Mounted Bins
Organizing small parts can be such a gruesome task if you don't have a system to sort it. Placing it in separate containers can also prove to be a hassle, especially if it's scattered all around your garage. But if you can keep it in one organized system, wouldn't it be much better?
You can install mounted bins on your garage's walls so that it could take up less space while giving you a much more organized and tidy workspace. Your mounted bins can be in the form of old card cataloging cabinets or easy to assemble shelves that can contain all your small parts.
These mounted bins are a great way to optimize your floor space and walls because you can keep them out of the way while you're working. It can also lessen the hassle of searching for small parts because it's already accessible through your system.
There are more ingenious ways you can make your workspace better and more conducive to working. By keeping an organized environment, you can cater to more customers in less time and effort. Invest in these changes so that you can maximize the potential of your auto repair business.