There is no such thing as a perfect time to start a business. No matter the situation, there will always be a risk of failure. Even if the economy is doing great, one misstep can end your venture.
However, the pandemic has created new opportunities for entrepreneurs. While so many businesses had to close down because of the stay-at-home orders, others saw the demand for their products and services not only endure but significantly improve.
Landscaping Services and Home Improvement
People are being forced to spend more time inside their own homes to protect themselves from COVID-19. They are using their furniture more often and, because both work and the school have become remote, new household necessities have emerged.
Naturally, there is now a higher demand for home improvement products and services. For a while in 2020, there was a shortage of appliances, particularly kitchen items, because families were making their own meals and eating at home as restaurants closed down. People are also purchasing entertainment equipment to turn their living rooms into at-home theaters and to watch blockbuster movies on Netflix, Disney+, Amazon Prime, and HBO Max. Moreover, families were also buying home office tools for remote work and distance learning.
In the past year, home improvement projects across the nation increased significantly, many of which happened during the first three months of the pandemic. They wanted to wait out the pandemic in a comfortable home that is why they have invested so much of their money on major renovations or made small additions.
The pandemic has also emphasized the need for a well-maintained outdoor living space. Lawns created a safe place for people to warm their skin under the sun and breathe fresh air without exposing themselves to the virus.
A lot of lawn work happened in 2020 and landscaping services will likely be in demand throughout 2021. Entrepreneurs that want to explore home improvement or lawn treatment and maintenance franchises can find success even during the pandemic and the resulting economic recession.
At Home Fitness Equipment and Coaching Needs
Gyms are closed and will remain close for a while longer. However, exercise is important to improve the immune function as the first defense against illnesses. While many people have turned to running during the pandemic as a physical activity, more have started building their own gym at home.
Peloton, a company that sells stationary bicycles, has reported a great year. During the fourth quarter of 2020, its sales rose by an astounding 172%.
But, people do not always know what to do with the equipment that they have. So, when gyms closed, trainers and coaches went online. Many continued to see their clients and develop exercise regimen online via Instagram Live, Zoom, or Skype. Some offer one on one sessions, but others opened their services to more people by streaming with multiple fitness enthusiasts at a time.
Anything related to fitness, well, except a new brick and mortar gym, would be a promising venture during the pandemic.
Food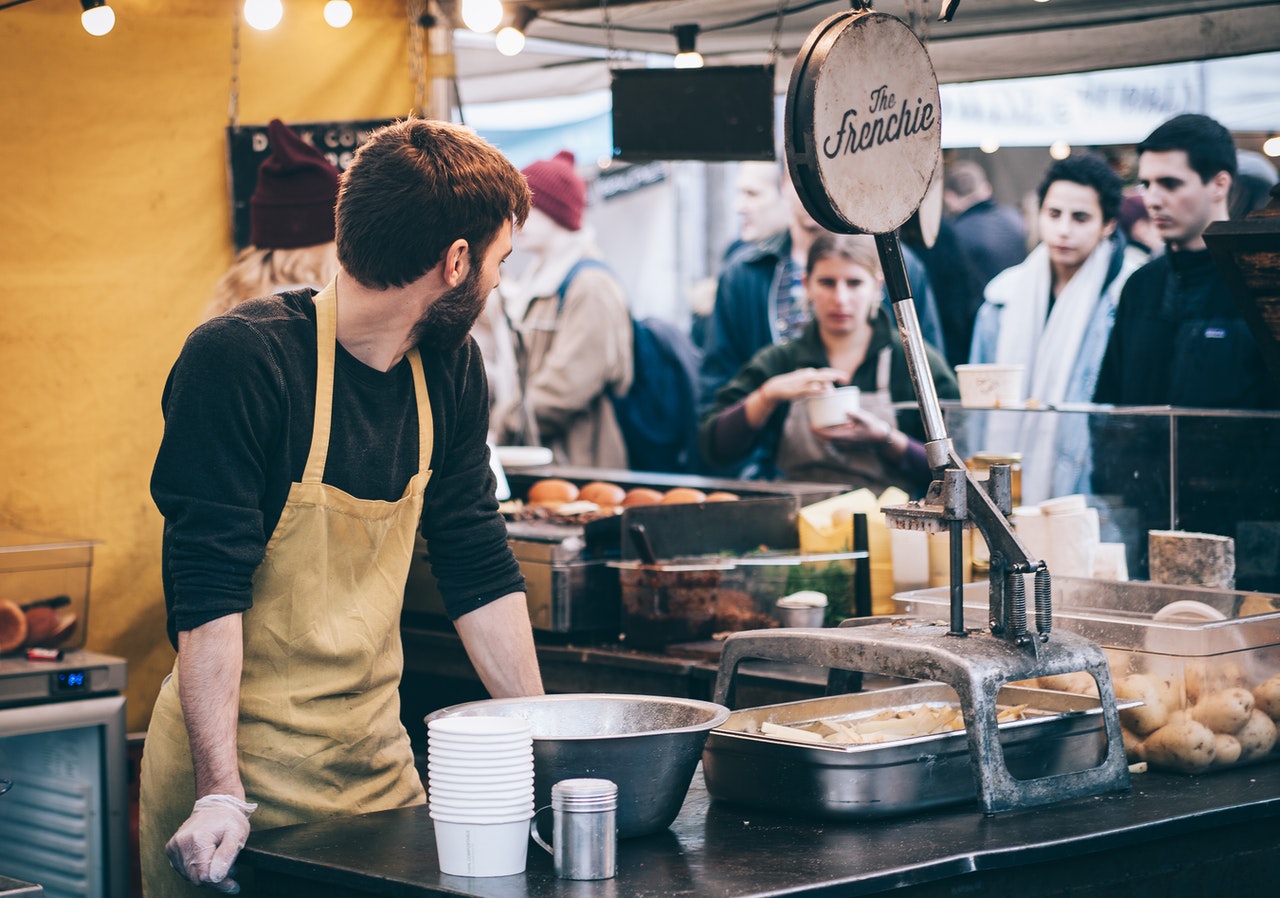 Food will always be a good business. People will always need to buy food. This pandemic, with most, either too busy with work and childcare or just not interested in eating home-cooked meals, there was a greater demand for food services.
There has been a surge of consumers having food delivered to their front doors. Uber reported that demand for their delivery services Uber Eats more than doubled during the second quarter of 2020. HelloFresh, a meal kit service, also saw impressive growth in customer base in the U.S. in 2020.
However, food delivery services will not peak with the pandemic. Even before the lockdowns, experts have been predicting a meteoric rise for the market, reaching $200 billion by 2025.
Home Beauty and Wellness Products
It has been a very stressful year and, so far, the nightmare is not nearly over. To cope with the collective traumatic experience that most people around the world are currently experiencing, many have turned to self-care.
The interest in home beauty and wellness products increased by 36% in the past year. The hair salons and spas are either shut down or limiting the number of customers in their facility at a time. Consumers are seeking ways to de-stress without leaving the comforts of their own homes.
Moreover, the interest is not coming from women only. Men are interested in hair care and skin care products, too.
Do not let the pandemic or the recession stop you from starting your business. If you believe that you will be providing goods and services that are currently in demand, then there is a chance that you are right and you will be reaping untapped benefits from the current crisis.