The year is approaching its end, and what's a better way to celebrate the New Year than remodeling your kitchen? You may have had a rocky 2020, but a brand-new kitchen may diffuse your anxieties, as it can serve as a symbol of starting anew.
Besides, the kitchen is the heart of your home, and it is the place where families, guests, and friends always gather and bond over great food. This coming holidays, your newly revamped kitchen will be a treat to your loved ones, so this is the sign to start budgeting for the project now if you've been thinking about it for a while now.
And the best part is, the remodel doesn't have to cost you an arm and a leg. Here are some affordable yet high-end looking (and top-performing!) kitchen materials:
Countertop
Choosing new countertops is always the most exciting part of a kitchen makeover. Though if the budget is tight, luxurious materials like marble and granite are most likely out of your options. But that won't make your countertop hunt any less exciting; several cheaper materials can mimic the look of high-end ones, you won't even be able to tell the difference!
Quartz countertops are usually priced similar to granite, but certain colors come cheaper. Plain white quartz is one of them, and though the color is plain, it adds a casual yet elegant touch to your kitchen. Its surface is clean, glossy, and reflective, which is helpful in enlarging a small kitchen.
This particular butcher block is more budget-friendly because it is not prepped for seams, not as premium, and may have a few imperfections. But still, the little flaws won't likely be visible. You just need to enlist a skilled carpenter to install the countertop, so that it'll look as seamless as can be.
If you live in a rustic home, raw edge countertops are your best option. Go to your local millwork shops to find the best type of wood that can deliver a charmingly worn look. You'd also get a better idea of what's available in your area, which may help in ensuring sustainability.
You don't have to settle for mediocre laminate countertops to save money. There is a modern laminate instead, which is far more elegant-looking and chic. Some styles even mimic granite, instantly making your kitchen look high-end.
Cabinetry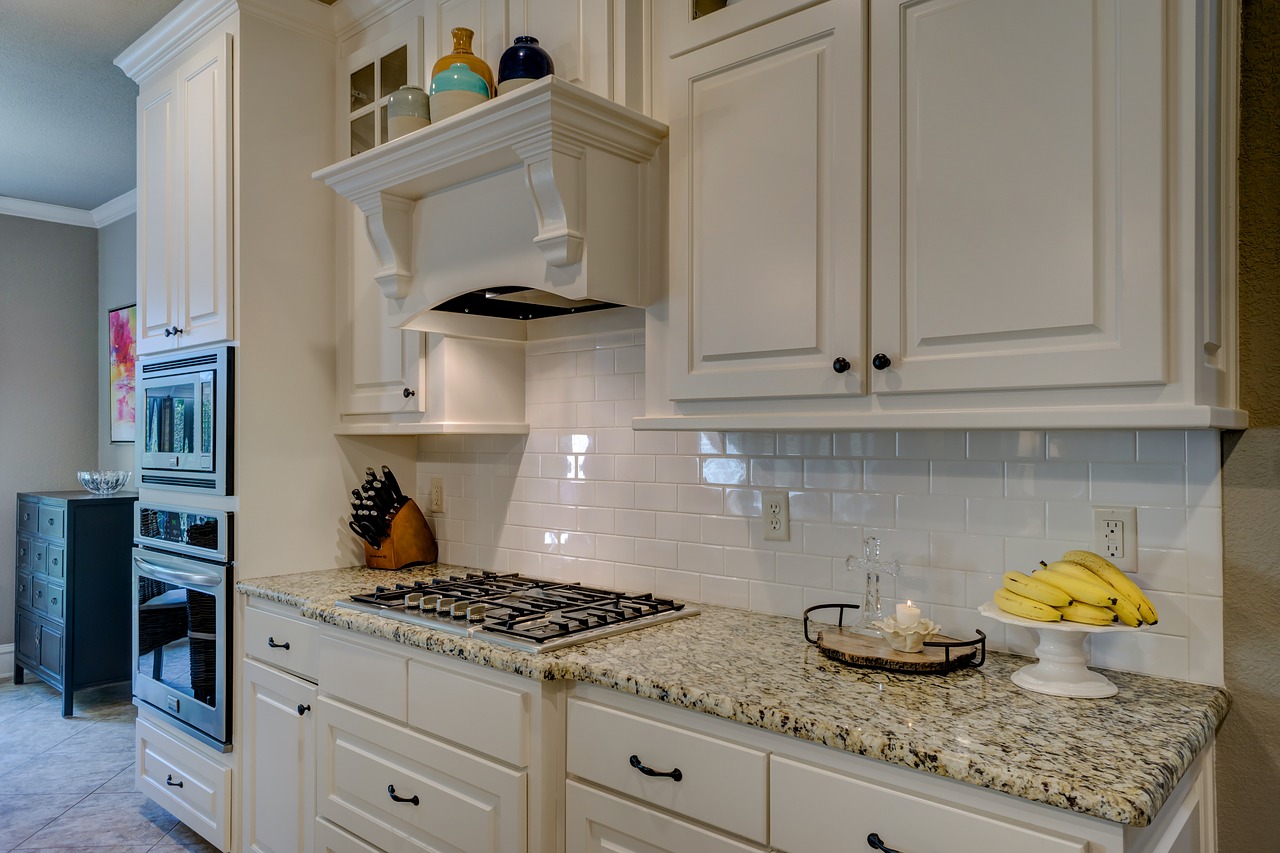 The cabinets are also a critical part of your kitchen. Get the wrong color or style, and it could make the entire space dull or dated. Luckily, a handful of materials can prevent that mistake.
These two materials are an excellent alternative for expensive wood, but thermofoil does a better job at disguising it as wood. However, laminate is more durable, albeit heavy, while thermofoil is lightweight.
In rustic kitchens, pinewood is one of the most popular cabinet materials. It has a natural worn look, but cleaner styles are also available, called white pine, which suits modern farmhouse-style homes. You just need to be very careful when handling this material, because it easily dents or scratches.
Oak is an affordable but elegant type of wood. It suits both traditional and modern kitchens and can be stained or painted a different color if you're not a fan of its natural pale gold hue. It's also durable and damage-resistant, so doubtlessly, it'll be one of your best value-for-money finds.
Backsplash
Backsplashes are starting to become a statement feature in modern kitchens. Thankfully, the great and classy materials are easy on the pockets!
The classic subway tiles remain the most popular backsplash material. Have them installed in a chevron or herringbone pattern to exude more style.
This old-fashioned material is making a comeback, and its unique patterns will surely highlight a dull-looking kitchen. If not on the backsplash, this tile can also make an accent on your kitchen floors.
Rustic and coastal-style kitchens definitely call for shiplap backsplashes. Save more money by cutting plywood sheets yourself, painting them, and installing them horizontally.
Appliances
When it comes to appliances, there are certain ones you should splurge on, so ensure that you'll have enough budget for those.
Stovetops endure a lot of wear from daily use, so you can't skimp on it!
Unless you bake for a living, then an affordable oven should be good enough for your needs.
Built-in Appliances: Splurge
Investing in built-in appliances will be wise if you plan to resell your home in the future.
Free-standing Appliances: Save
Choose a cabinet-depth free-standing fridge and stove to make a seamless appliance ensemble in your kitchen.
Stainless Steel Finishes: Splurge
Stainless-steel-clad appliances are generally pricier, but they may increase the value of your home.
Now that you've been guided on the cheap but elegant-looking kitchen materials, your remodeling project will surely have dramatic results, sparking excitement for the year to come.