The Covid-19 pandemic badly affected service sector businesses in 2020. The worst-hit industries were retail and hospitality, accounting for about a quarter of jobs lost. They were followed by aviation, energy, and manufacturing. Leading department store Marks and Spencers cut nearly 8,000 jobs this year. In the hospitality industry, Whitbread, which controls Premier Inn and Brewers Fayre, cut 6,000 jobs in September.
Trouble Brewing
On March 16, UK Prime Minister Boris Johnson told the public to avoid pubs and restaurants due to a frightening increase in Covid-19 cases. Although the warning was not enforced, pubs and restaurants suffered a 52 percent drop in takings that night, followed by an 82 percent drop the next day. Soon afterward, the impact of the warning resulted in many pubs and restaurants closing permanently.
With the public's knowledge of the deadly impact of Covid-19 in other countries, and despite the government's previous method of herd immunity to overcome the virus threat, attendance at pubs was down by 12 percent and restaurants by 21 percent in the week prior to the government warning. Because of the warning, March's average pub sales slumped by 57.5 percent and restaurants to 56.4 percent.
Take to the Streets (al fresco, that is)
After the first wave of Covid-19 across the UK, the government allowed pubs and restaurants to re-open on 4th July. The new normal included social distancing of two meters, or 'one meter plus', and minimal staff and customer interaction. Although the owners could operate both indoors and outdoors, the premises required space and facilities to allow more hand washing, better ventilation, and to enable orders to be taken from tables rather than ordering from the bar. Nightclubs were not permitted to open.
With space limited in many family-run pubs and restaurants, particularly in built-up areas, a campaign was started by Alan Lorrimer. He wanted local governments to close off streets and utilize paved areas to promote outdoor dining and drinking in what was called 'The UK Grand Outdoor Summer Cafe'. He stated Vilnius in Latvia as an example, where outside seating in public areas allows customers to enjoy physically-distanced meals. Over 150 pub, bar, cafe, and restaurant operators of over 1,000 venues throughout the UK supported the cause, which was also backed by several celebrities.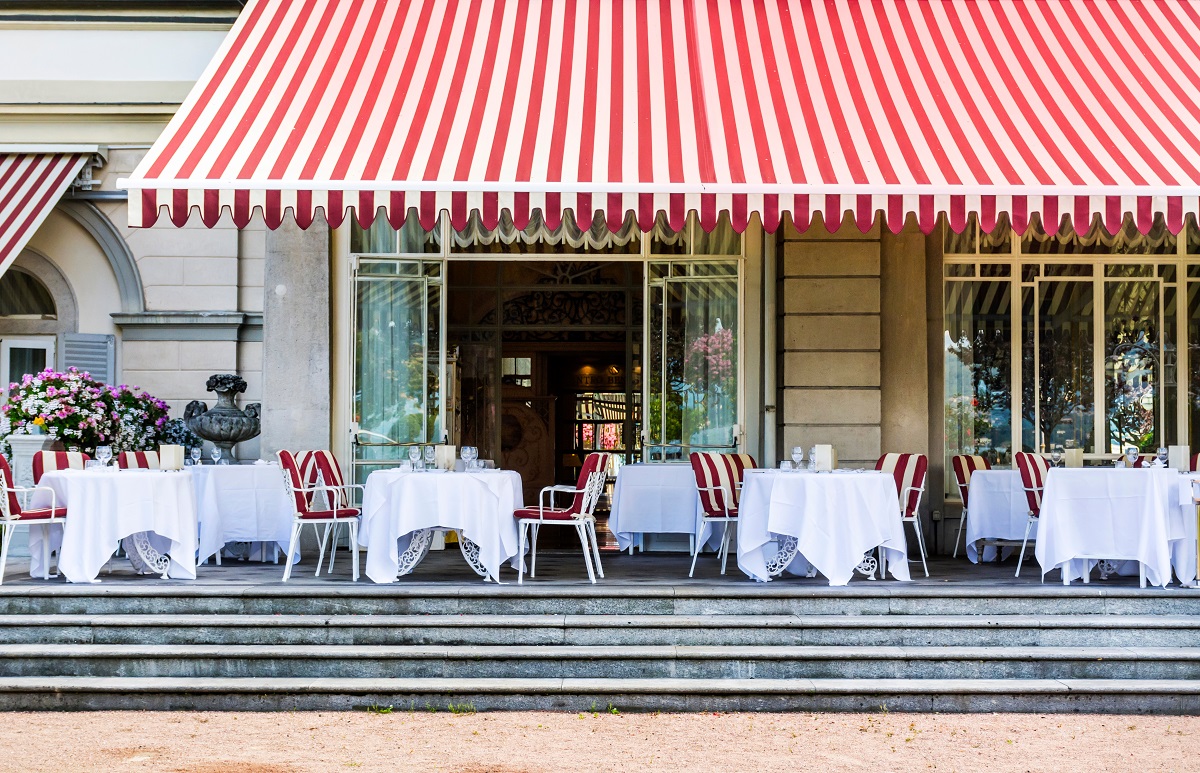 The campaign's success resulted in the government passing the Business and Planning Act 2020. The main achievements included fast-track approval for bars and restaurants to set-up tables and chairs outside their premises, and establishments with alcohol licenses were allowed to sell drinks for takeaway. Application fees were capped at £100.
Be Prepared
With efforts underway to enable pubs and restaurants to stay open, what are owners doing to adapt to the new norm? A major issue is avoiding bottlenecks within the venue's layout and how customers and staff can move freely through the premises. Proprietors who can utilize outdoor space, such as beer gardens and outdoor eating areas, have an advantage over small crowded eateries or watering holes. The outside space can be upgraded to provide a year-round social area. During the spring and summer months, commercial awnings and canopies provide shade and shelter for outdoor dining and drinking, while during the winter, these sheltered areas can be kept warm with patio heaters or adjacent fire pits.
For some businesses, enforcing social distancing on their premises is not economically viable but offering a takeaway service provides some custom. For those that re-open, what short term solutions will increase safety and meet government safety standards? Apart from buying a tape measure and marking out the agreed social distance between seats and tables, and investing in perspex screens, mandatory mask-wearing by staff, providing hand washing stations, the regular cleaning of surfaces and communal areas, the introduction of single-use cutlery, plates and menus, and contactless ordering apps individually may not be enough but collectively boost consumer confidence.
With a Covid-19 vaccine roll-out, many businesses hope for a return to normal, pre-pandemic working conditions and revenue. With lockdowns remaining in place, the UK economy entering a deep recession, and new trends resulting from people staying at homes, the hospitality industry must continue to use imaginative ways of attracting customers for its survival.