There are a lot of overwhelming details when marketing a real estate property, but one thing is for sure: there are two main rooms that real estate buyers are focusing on. These two rooms are the bathroom and the kitchen. Seeing as the kitchen is the heart of every home, it's no wonder that homebuyers want a kitchen that will be the venue for many intimate and fun dinners with the family.
But more than the kitchen, the bathroom is also one of the bestselling points of a home. Homebuyers want a bathroom that looks somewhere between the cross of a spa and hotel. They want modern amenities. They want a bathtub, shower room, walk-in closet, and all the trinkets that money can buy. In fact, several surveys showed that people are willing to spend more on a home when they like the bathroom.
Make the Most of What You've Got
The thing about making a bathroom over is that you need to keep most of what you already have. So, for example, you already have the most basic of fixtures—showerhead, faucet, sink, and toilet bowl. Maybe these need a deep clean to make them look brand-new, right? Save as much as the existing bathroom as you can. But to upgrade the fixtures, you need to be practical about it. For example, you can switch to low-flow toilets and showerheads. You can also upgrade the lighting, mirrors, storage, and towel racks.
If you want the bathroom to be the focal point of marketing a real estate property, you may have to enlist the help of a residential bathroom fitting contractor. These companies have tricks up their sleeves on how to convert an outdated bathroom into a modern one. Good contractors can work around a budget, of course.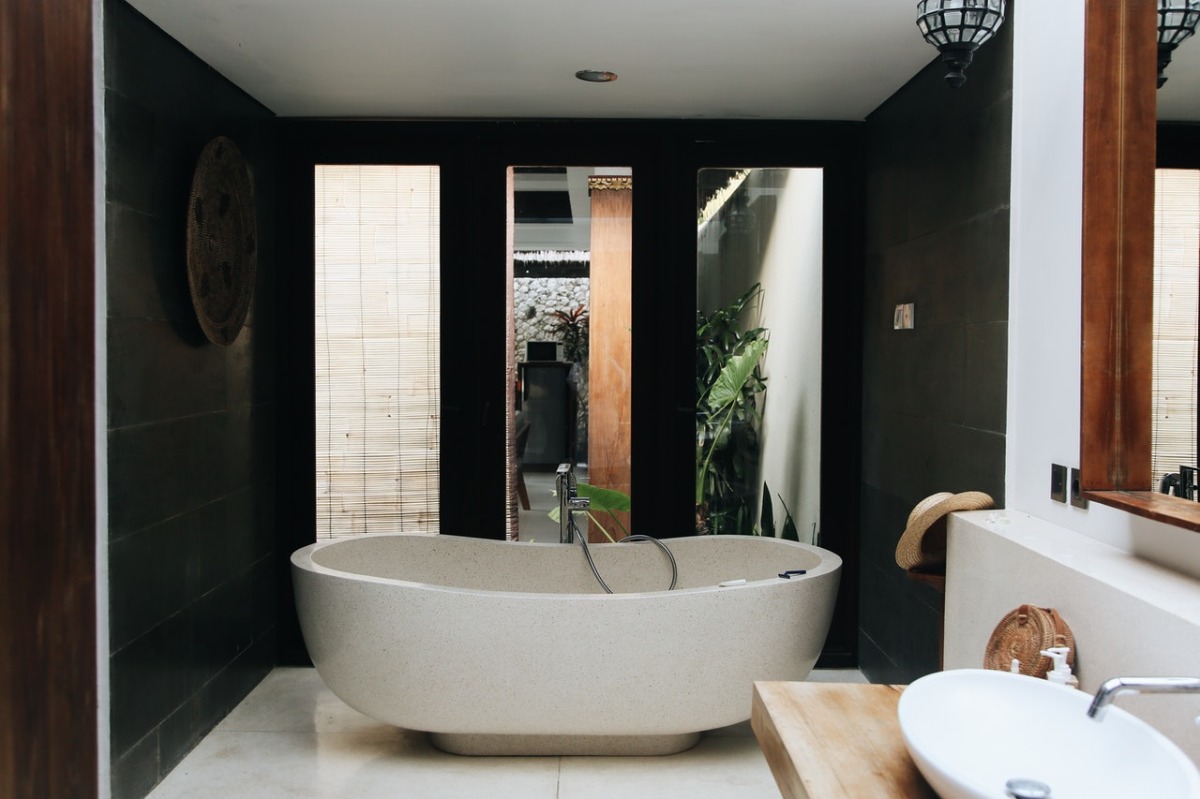 Don't Overdo It
As much as homebuyers want a modern and chic bathroom, what they don't want is to pay too much for it. At the most, you can only recuperate what you've spent renovating the home. Profiting from that one bathroom is not possible. What you get by making the bathroom the selling point of the home is a faster transaction. You can get the house off the market sooner than the other properties in your portfolio.
Should you extend the bathroom and downsize the master's bedroom or the guest bedroom? You don't have to do it. Even a small bathroom can become functional when you design it with form and function in mind. Though you want to wow potential homebuyers, adding a sauna and jacuzzi will raise the price of the property to the roof.
Choose What to Remodel and Renovate
While you do not have to revamp the whole bathroom, there are at least three areas of that room that you can redesign that will attract more buyers. The first is the vanity area, which usually attracts women homebuyers. You need to upgrade the countertop, faucet, and sink. These three alone can eat up your budget, but a great-looking vanity will surely be appealing to single women and young couples.
The second is the flooring. What kind of flooring do you want for your bathroom? The materials that will give your bathroom a modern look are porcelain and ceramic tiles. You can also go for marble and engineered wood, but that will be problematic when it comes to moisture. Make sure to choose the type of flooring that will be durable and can last for a long time. If there is one thing that homebuyers hate the most about a bathroom feature, it's the idea of having to change the tiles in the near future.
Lastly, the tub and shower are important amenities of the bathroom. Gone are the days when homebuyers want whirlpool jet tubs. Those are hard to maintain. Plus, they easily break, too. Instead, homebuyers are choosing bathrooms that have a walk-in shower. It's a plus point if you can squeeze in a soaking tub. Some others are opting to remove the tub completely.
For many, marketing a property involves spending tens of thousands on renovation and remodeling. This isn't the way to go about it. Rather, you have to be circumspect with the money you pour into these home renovations. While the intention is to wow potential homebuyers, it shouldn't be at a point wherein you are spending more than you can recuperate in the total value of the property. Although you can sell the property faster this way, you might be giving up more than you should.